I'm a little late on this due to finals, but here it goes... click the button below to hop on over to
Brenda's blog
and write along!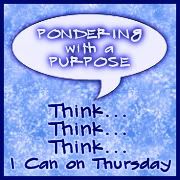 This week we're talking about loss. We'll see how well I do with this one since I'm mentally drained from my never-ending research proposal that, well, just ended... hm... :)
I've experienced a lot of loss in my life. Loss of family, friends, pets... It is hard to pick just one instance of loss to talk about and even harder to talk about them all. And do we mean loss in the death sense? Or in the sense of losing touch? Losing your keys or a prized possession? I did lose my extensive key chain collection and that really upset me. Ask me today what key chains were on it though and I can name two that I can actually picture in my head... a Syracuse Orange-man and a green round flower thing from an insurance agency or something generic like that.
Anyway, back to losses... the first loss I remember well was my grandmother. It was hard because she was my last living grandparent. Then I remember my uncle, her brother, who was one of my favorite uncles, passed away. He had a beach house in Baiting Hollow and I loved going out there. My Aunt Mary Ann, my mom's sister, passed away too and that made me so sad, she was the sweetest person. I had a few friends pass away too which was just awful. People my age that I was close to and this was when we were under 20! Jimmy, Jody, Kelly, Ricky. Way too young. A boy I worked with at Blockbuster died in a car accident a few years back. I hadn't seen him since he graduated high school and went off to college and I bought him some dorm presents to send him off with. A couple of Brad's friends passed away in recent years, very tragic. And some of his relatives passed away as well, the most recent being his Uncle Bobby this past summer. In fact this weekend is the one year anniversary of his best friend's death, he's at an oyster roast right now in David's memory.
Loss is such a hard thing to deal with because it affects people so differently. Everyone has a different coping mechanism. Personally, I have the tendency to be the strong one, to be there for anyone else who needs a rock. Call it the psychologist forming in me, but I'm always looking to help others heal. But I can cry like the best of them, trust me!