To say August has been a crazy month for me would be an understatement. I used to have spare time. Whether it be at work or at home, it was there. Time to do little things here and there like blog, read, or watch TV. I'm not completely sure where that time went since I don't feel like I've run out. Maybe that's a good thing?
Regardless of the time thing, I am doing great. Work is great. Home is great. Life is great. My new co-worker and I are still getting along beautifully. My fitness plan is still going without a hitch. Things are good. Of course, classes begin September 5th and I'm sure all hell will break loose then!
So here is some Friday fill-in fun, a day late, just my style. :) Each week Hilary at
Feeling Beachie
lists four fill-in statements on her blog. We take them to our blog and fill them in. She's always looking for co-hosts so if you have suggestions for some statements, e-mail them to her at feelingbeachie@gmail.com. Now click the button below to play along.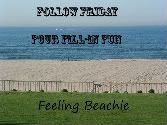 This week's statements:
1. I ___ so much ___ in a day.
2. I don't like ___ but I love ___.
3. When I watch ___ I ___.
4. I have ___ in my wallet.
My answers:
1. I
wish I could get
so much
sleep
in a day. I love to sleep!
2. I don't like
to wake up early
but I love
to start a productive day real early
.
3. When I watch
my dog play by herself
I
wish she had another puppy playmate
. Doesn't seem to bother her though.
4. I have
a bunch of cards
in my wallet. Not all credit cards! Only one of those, but tons of grocery store and drug store cards, gift cards, membership cards, etc...