Brad is out fishing. He gave me homework. The new Expendables movie came out in theaters and my homework is to watch the first movie so I will want to go see the second one. It's on but I'm not paying much attention. I thought it would be funnier. Usually when they bring a bunch of popular actors together for a movie, whether it's an action movie or a drama or whatever, it's a little bit funny. I'm not laughing. It's probably a good man action movie, but I'd rather be catching up on my blogging...
So this week
Brenda
is presenting us with some deep thoughts for Pondering with a Purpose. :) Are we living our life? Or is our life our living? Where are we at with our master plan... Click the button below to head over to Brenda's blog and join the conversation.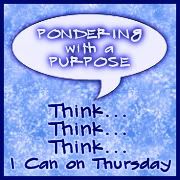 I like to think I'm living my life. I'm sure there was a time, and that there are still times, where my life was/is my living. But for the most part I believe I am on the right track in my plan for myself. Yes, there are times when life sucks, but you learn from it and you move on. It can only hold you back if you let it.
I'm happy with my place in life. Brad and I are doing well. We have a house, cars, jobs, pets, family, and all the things that we need. Do we want more? Of course, who doesn't? But we're happy with where we're at and we progress when we can. We are responsible for the things that we have and we can be proud of that.
And by "things" and "wanting more" I don't necessarily mean material things. I mean any things in life... education, career, stuff, etc.