I hope everyone has had a wonderful week! My week was fine, I guess, but it's all hindsight as I am looking forward to my three day weekend!! Anyone else have a three day weekend to enjoy?? I know it's Labor Day and most workplaces close for that, but I also know not everyone works in a place that gets to take advantage of holidays, and some of you I'm sure have jobs that don't give you time off at all, like all the moms and dads out there. In a past life I worked at Blockbuster and I worked every holiday known to man. Not kidding. I worked at least two Thanksgivings and two Christmases in a row. The bonus was that my coworkers would bring me some of the yummy food from their family feasts. This was when my parents had already moved to South Carolina, so I didn't have a holiday meal to look forward to before or after my shifts. But enough about that, let's fill in the blank!
Each week Hilary at
Feeling Beachie
posts four statements on her blog that we take to our own blogs and complete in our own way. She's always looking for co-hosts of this fun hop so please e-mail her suggestions for statements at feelingbeachie@gmail.com. Now click the button below to go to Hilary's blog and play along. :)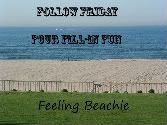 This week's statements:
1. I love to ___ but hate to ___.
2. ___ makes my day better.
3. They didn't think I could ___ but I did.
4. Warning: ___!
My answers:
1. I love to
have a clean house
but hate to
clean it
. I haven't read any of the other links on the linky yet, but something tells me this might be a popular answer.
2.
Seeing the faces of those I love
makes my day better.
3. They didn't think I could
fill in this statement
but I did. Sorry, I couldn't think of anything!!
4. Warning:
contents under pressure
!