Greetings! Had a great week! Exhausting, but great! Work has gotten so much better now that I have a helping hand. And my new officemate is great!! Things are going so well, I feel very optimistic about the future.
So here it is, my favorite Friday hop!! Hilary at
Feeling Beachie
hosts this fun hop. She posts four fill-in statements, we take them to our blog and complete them. She's always looking for co-hosts so e-mail her suggestions at feelingbeachie@gmail.com! Click the button below to find out what all the fun is about!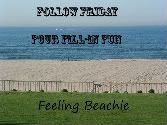 This week's statements:
1. When I was little my mom ___.
2. ___ is my favorite condiment.
3. I don't like to celebrate ___ because ___.
4. My ___ takes up more space ___ and I can never ___.
My answers:
1. When I was little my mom
would never let me stay home from school
. She was a nurse so she could call my bluff from a mile away!
2.
Chick-Fil-A's Polynesian Sauce
is my favorite condiment. Too bad it's so far off my diet's radar it might as well be on another planet!
3. I don't like to celebrate
Mother's Day and Father's Day
because
I think mothers and fathers should be honored every day
!
4. My
husband
takes up more space
on the bed than me
and I can never
get comfortable
!
Being the slacker that I am, I'll be hopping along tomorrow! I want to make sure I have time for good, thoughtful comments and not hasty ramblings!!