Happy Friday! This day has been ridiculously slow for me and I can't wait to get out of here and go home. Usually I won't blog from work, however, when it's 4:30 on a Friday afternoon and I seriously have NOTHING else to do, I make exceptions to make the day go by...
Click the button to hop over to Hilary's blog and play along in this fun weekly fill-in the blank hop! If you have suggestions for statements, e-mail Hilary at
feelingbeachie@gmail.com
and you can be a co-host!
Update: This week I'm co-host! Yipee. I've been such a scatterbrain lately that I completely overlooked that awesome fact and for that I apologize!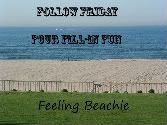 Statements:
1. ___ makes me laugh.
2. Sometimes ___ makes me sad.
3. My ___ looks ___ after ___.
4. When I hear ___ I ___.
My Answers:
1.
Dry humor
makes me laugh. I find it more amusing than slapstick comedy.
2. Sometimes
memories
make me sad. Not necessarily in a bad way, just in a "miss my friends" kind of way.
3. My
hair
looks
horrible
after
I spend time in the humidity
. Like I should have a bag over my head...
4. When I head
the ice cream man
I
used to run for the truck, but now it kind of gives me the creeps
. You've probably heard the same kind of stories I have...