I'm so happy to be participating in some Friday fun again. It's been too long! So here's the deal... each week Hilary @
Feeling Beachie
posts four fill-in statements on her blog, take them to your blog, fill them in and link up. Real easy, occasionally thought provoking, a good time! Join us!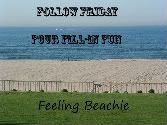 Statements:
1. In the summer ___.
2. I always ___ when I ___.
3. Reading ___ makes me ___.
4. I like to live ___ because ___.
My answers:
1. In the summer
I tend to stay in the AC
. It is just too hot here. I'm not close enough to the beach and I don't have a pool so unless I want to fry, inside it is!
2. I always
laugh
when I
do something stupid
. I figure if I laugh first, I set a precedent for the situation.
3. Reading
a good book
makes me
eager for another good book
. Ok, not very imaginative, but doesn't a really good book make you want to keep reading, but a bad book kind of puts you off? Ok, maybe it's just me!
4. I like to live
in New York
because
of the Chinese food, pizza, bagels, and Slurpees.
I was seriously just having this conversation with a co-worker from Jersey. She doesn't feel it yet because she hasn't been here long enough, but after our conversation she's afraid she will. Haha.