Time for this week's Follow Friday Four Fill-in Fun! Join Hilary at Feeling Beachie for this fun hop.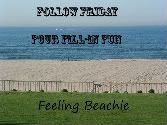 Each week she posts four fill-in the blank statements on her blog. Take them to yours, fill them in, and link back. If you have suggestions for statements, send them to her at feelingbeachie@gmail.com and you could be co-host!
This week's statements:
1. When I am ___ I always ___.
2. ___ is my ___ of ___.
3. The ___ the ___.
4. If only I ___ then ___ and everyone would be ___.
My answers:
1. When I am
bored
I always
head for the fridge
. Such a bad habit.
2.
Spring
is my
favorite time
of
the year
. I wish these sudden cold spots would go away!
3. The
cat is sleeping on
the
desk
. She has her head on the side of my keyboard.
4. If only I
could clone myself
then
there would be many of me
and everyone would be
glad for the assistance
. Some days it seems like EVERYONE needs my help, but there is only one of me and as much as I want to, I just can't do it all.