Look at me being on time for once! But I have to be because I'm co-host!! :)
This is the 57th week of Follow Friday Four Fill-in Fun with Hilary over at Feeling Beachie. Click the image below to visit her blog.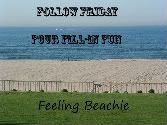 Here's the deal: each week Hilary posts four fill-in the blank statements on her blog. Take the statements, post them on your blog and fill them in, then link up! If you want to join in the fun, e-mail your ideas for fill-in statements to Hilary at feelingbeachie@gmail.com, she'll make you a co-host! This week I'm the co-host, the last two statements are mine.
Spread the word about by linking up via the linky, sharing the linky on your page, and/or by posting on Facebook or Twitter!
Here it goes...
This week's statements:
1. I never wear ___ and I don't know why.
2. In the winter I always ___.
3. When I ___, I miss ___.
4. I love the way ___ feels.
My answers:
1. I never wear white and I don't know why. Ok, that's a lie. I don't wear white because I'm a slob and it wouldn't be white when I'm done!
2. In the winter I always wear socks. You will hardly ever catch me in socks during the summer. I'm a bare-footing, flip-flopping kind of girl. :)
3. When I smell saltwater, I miss Long Island. I miss my beach!! The beaches here are gorgeous but it just isn't the same.
4. I love the way being loved feels. :)