Winding down with some Follow Friday Fill-in Fun with Hilary and friends at Feeling Beachie.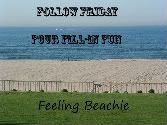 1. I loved to sleep late as a kid and still do.
2. I drive pretty well. That's my opinion anyway... never gotten pulled over so I guess that's a sign.
3. I am currently reading Cross Country by James Patterson. Been reading it for about 3 months now... stuck.
4. I wish I could instantly have a body like I did when I was 18. It's actually my motivation picture for my weight loss kick. And trust me, I'm well aware that at 30 it's not likely I'm going to look like a teenager again, but I'll take what I can get!