Since I'm truckin' it to Beaufort in the AM, I'm doing this early!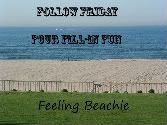 1. I always refuse to admit when I'm wrong.
2. I won't eat chicken livers. Ick.
3. I would like to hang out with the cast of Criminal Minds for a day. I follow them on Twitter and they're pretty hilarious.
4. I would like to learn how to knit or crochet. I have friends that do it and I love their little creations. I think it would be awesome to make something like that.
Link up!