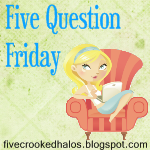 1. What ringtone do you have on your cell phone?
Not sure the name, one of the built-in ringers. I know, I know... I'm boring.
2. What is your favorite memory from this summer?
Is it sad to say I don't have one? We didn't really do anything adventurous. Just kind of chilled all summer long.
3. Paper books or e-books?
Definitely paper. I think I'd like to have a Kindle, but in the meantime I could only read an e-book on my phone or computer and I don't dig it. I would rather have a book in hand.
4. If you could have one home upgrade, what would it be and why?
This is hard. There are a couple of projects I'd like to work on but I'm kind of limited on space. If a second floor counted as an upgrade - that would be awesome! Because then we could move bedrooms upstairs and spread out the lower level to get a bigger kitchen, living room, master bedroom (I'd want that to stay on the first floor), and master bathroom. If I have to keep it real simple I'd say a bigger fridge.
5. When was your first serious boyfriend/girlfriend?
When I was 15. When I have kids they aren't dating until they're 30.