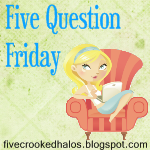 1. Do you apologize to your kids?
If by kids you mean cats and dog, yes I do. I apologize for stepping on them, for accidentally kicking them when they walk in front of me when I am motion, and I apologize to them after I yell at them or get mad at them for doing something bad and they look at me with THOSE eyes. If you're a fur-mom, you know what I'm talking about.
2. What color are your nails right now?
Pink! It's very, very light sparkly pink. My toe nails are purple.
3. When you were growing up, how difficult was it for you to stay home sick? (As in, did you have to vomit or just say "I don't feel good.")
My mom was a nurse so I didn't get away with much in the sick department. I had to have a contagious symptom like a fever or I guess I would have had to been vomiting.
4. When is the last time you bought a new comforter for your bed?
Last September, and yes it's already stained. Gosh I love it too, so pretty. It was one of the pieces I needed to complete my perfect bedroom. Perry Ellis, great deal from Overstock.com. It's still pretty but I guess it was absolutely necessary that my one cat had to b**** slap the other in the face and leave a drop of blood on my brand new comforter. :(
5. Favorite website(s)?
Honestly, Blogger and Google are probably my favorites. Most frequently visited? Now that's a whole different story!